Sweet James – Interview with Monster City's "theming master" James A. Powell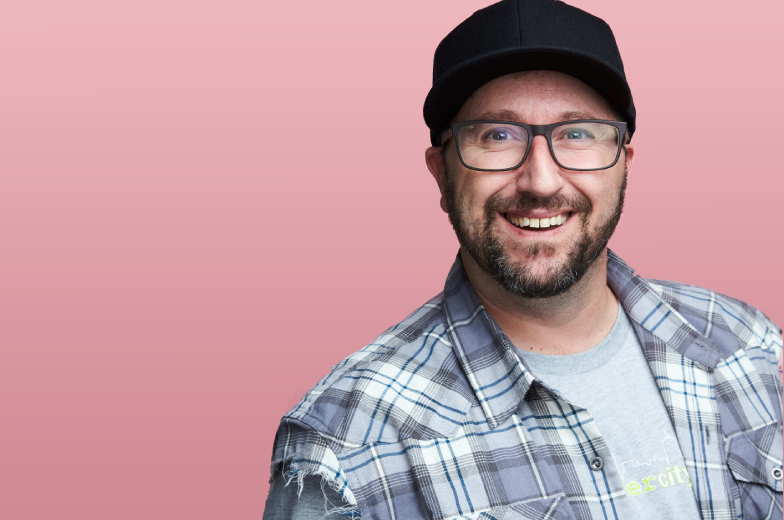 From massive theme park props to immersive escape rooms – like PanIQ Room Las Vegas! – Monster City Studios crafts dreams into reality. (Quite a few nightmares, too.) We chatted with James A. Powell, Vice President of Design, about what it's like to unleash his creativity on a truly epic scale.
How did you get into the amusement industry?
In the late 90's, I had a semi-popular website that documented my daily progress building a scale model railroad. My followers suggested I start building dog houses and playhouses for children in the cartoony style of my scale models. I took their advice and built some bigger items, and they really became popular. Things just kind of grew from there.
What type of attractions do you enjoy the most as a customer?
My favorite projects are totally immersive: anything that will allow you to feel like you are in a different time or place. That's why I love making themed experiences.
Monster City has worked on many large-scale projects. Which is your favorite?
Wow… that's a tough one. I really enjoy working on projects for the large theme park companies, because they're high-profile. BUT the caveat is that they're not creative at all. Everything down to the millimeter is preplanned. I like to be the one writing the story.
We're currently working on a large Dungeons & Dragons-themed gaming cave in Florida. It's two stories, made of shipping containers, and totally immersive. It looks and feels like a medieval Pub and Inn. I also really enjoyed building the Zombie Room at PanIQ Room Las Vegas at the Canal Shoppes. We had a basic outline of the design, but we had the freedom to help tell the story through creativity. We built that barn on the fly and it was fun!
Monster City is based in California, right?
We have a 30,000-square-foot facility in Fresno, California, right in the middle of the Central Valley. Something like 20% of all produce grown in the US is grown right here. Many people are surprised to find that we aren't in Los Angeles like other entertainment companies. I don't know if that's a good thing or a bad thing.
Is it difficult to compete with cheaper builders and manufacturers overseas?
Sometimes the cheaper production of pieces in China has hurt us, but usually for jobs that require many of one particular statue or item. Believe it or not, we actually build items here for the large theme park companies and send them to Japan and China.
One big advantage we have: if something is designed here in the US, it's easier for design firms to keep an eye on quality control if the pieces are made here as well.
How did your relationship with PanIQ Room begin?
Akos [Gabossy], one of the founders of PanIQ, contacted us when he was building his first store in West Hollywood. (We were a bit beyond his price range then… and probably still are. Ha.)
What was the biggest challenge building the sets of PanIQ's escape rooms?
Having to deal with Joe. [Joe Flores, a long-time construction partner of PanIQ Room who also worked on the Las Vegas project.] Joe's a pain in the ass. Actually we love Joe, he's a great guy and a pleasure to work with. He's got a bad gambling habit though.
No, really the biggest challenge is just moving all the props and supplies to the store. In Las Vegas, we probably hauled in a complete semitrailer. We had to maneuver through multiple elevators, hallways, and sometimes stairways. For those who don't know what the back-of-the-house looks like in a major casino, imagine a mini-city built inside a labyrinth. With almost no signage, locked doors, and literally miles of hallways. And you have to walk. A lot.
Which theme set is your favorite at PanIQ Room Las Vegas?
Of the four we built – Zombie, Haunt, Casino, and Time Machine – Zombie is my favorite. I really like the look of Haunt and the Casino room, but Zombie was built on site.
We're thrilled you'll be working on PanIQ Room's newest flagship location in Los Angeles. What do you expect from this project?
We're all very excited. It's not out in the middle of the desert for one, and we won't be on COVID lockdown while building it. Another nice thing is that the building already exists. In Las Vegas, the store was being built while we were installing.
There are a few new room ideas for LA, as well as ones we've already made. We should be able to really improve on Zombie and Haunt, since we learned so much in Las Vegas. Also the LA site is a lot closer to home, a three-hour drive versus a five-hour drive. While we were working in Vegas we didn't go home a lot.
What do you think about the future of the location-based entertainment industry?
We survived the pandemic. But what is going to happen with us in this turbulent economic environment? That's a tough one.
We've actually seen a decent uptick in themed work and "activation" work. Part of our business is building large props for pop-up shops and temporary branding for marketing events. This market has been surprisingly strong, even with a bit of a weaker economy.
One thing that has helped us is we're now using A LOT of very large-scale 3D printing technologies. In the past, much of our work was carved in foam, coated with plastics, then sanded and body-worked almost like an automobile. Now, we're printing final parts. It's almost like printing a finished fiberglass piece. This is a new development in the past six months or so. It's really helped lower our materials and labor costs, allowing us to remain competitive while inflation has driven up other materials prices. Best of all, this technology is only getting better and better and cheaper.
Some Monster City pieces are huge! But you're also passionate about miniature buildings and modeling. Any personal projects you're working on at the moment?
I love model building. Especially scenery and buildings. I'm currently working on a large-scale railroad installation that is being moved from Tampa, Florida to Paso Robles, CA. This model is 1:20 scale and is known internationally as one of the most highly detailed models of its kind in the world. I'm helping with the physical environment the railroad will be placed in, as well as helping expand it. It's being installed in a large tourist-based wine-tasting center called "Tin City" – very high-end stuff.