Game Designer Zoltán Győri Is Never Bored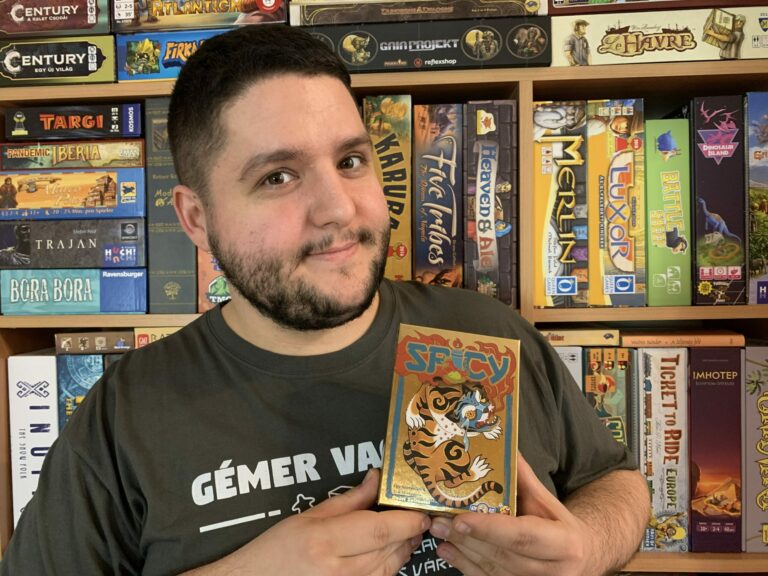 Zoltán "Zoli" Gábor Győri has spent a decade mastering the art of board games, as an enthusiast, reviewer, and extremely prolific game designer. Recently, Zoli collaborated with PanIQ Room on our first (and fuzziest) board game, Llamageddon – which you'll want to get your hands on before the alpacalypse arrives.
Do you still remember when you discovered the gaming scene, and which was the first game that really caught your attention?
I have been playing board games since I was a child. I had Mouse Trap, Hotel, Ghost Castle, and Farm Smart. But Activity had the biggest impact on me. I liked that anyone—young and old, beginners and advanced, extroverts and introverts—could play together. Although obviously, extroverts always have a better time.
In light of this, when did you realize that board games are more than a hobby for you?
When I met my wife Réka in 2011, we started playing more and more. It became commonplace to have a board game on the table. Soon I began fabricating games of my own; this became professionally demanding around 2014. I was more involved in game design and learned a lot. In January 2017, we launched our vlog, Mit Játsszunk? (What to Play?), where I dared to share my thoughts with the general public.
In total, how much are your board games at home worth? And has your wife always easily tolerated your obsession?
With 600+ games, it's not easy to judge the value. Many have a more nostalgic than monetary value – although there are a couple more serious or rare titles. I'm lucky because Réka is basically as enthusiastic about the genre as I am. We've bought a lot of games together. However, there's no doubt that if it were up to her, we would have a much more modest collection.
How do you manage to stay so current? Is there any standard board game that you haven't tried yet?
A great number of games are published every year, several thousand. I mainly focus on those also published in Hungarian and thus are available to my audience. I get to try many new things, but I don't get to play nearly as much as I want. However, there are authoritative titles that I consider to be must-play. And I have, of course, tried them all, so I've really been lucky enough to play thousands of games. 🙂
Anyway, I consider it very important to stay up-to-date professionally, but also as a means of improving my skills. That's why I follow many foreign channels, read research papers and books, and attend events, in addition to making time with other game designers and professional vloggers. We also hold team building and board game training sessions to keep our work player-focused.
Do you prefer video blogging or the game design process?
Depends on the day. For me, these two things are facets of me that help and inspire each other. Each developed in me organically. There are periods when one is more actively present in my life, e.g., game design in the summer and making vlogs in the fall and winter.
How many board games can be associated with your name, and professionally, which do you think is your best board game so far?
It's easier to count the titles that are sold in stores: 12 have been published so far. However, in recent years, many of my requested games that did not appear on store shelves were released in 1-2 copies or only one closed (e.g., in a company or museum environment). Fortunately, they've received a lot of positive feedback. Each game had a professional challenge, a different perspective, and different points of emphasis. It's difficult for me to judge which one is the best professionally, like asking a parent about his children. They all have an extra trick or a treat; they're all made with heart.
What's the story of your collaboration with PanIQ Room?
I have been a fan of escape rooms for eight years. My wife and I once went every few days to "get out." 🙂 So, I'm sure that I visited PanIQ Room before our collaboration started. Good memories.
The prospect of creating a board game for an escape room franchise was very exciting. I happily answered the challenge with my idea for ​​Llamageddon, which we then developed together. I enjoy working with the team, as they're also "out-of-the-box" thinking, creative people.
How does a good board game compare to an escape room?
Both are community-creating… mainly analog experiences, the goal of which is quality entertainment. During the game, the players get into a situation where they and their partners can get to know each other better. The game gives feedback on their performance and encourages them to improve. In addition, the narrative, the adventure… the lived story can provide a great flow experience, simultaneously relaxing and stimulating the brain.
For whom did you make Llamageddon? What makes the game unique?
Llamageddon is a casual, sometimes argumentative, party game with a clear target audience of "noisy," more extroverted players. The participants aim to convince the others to vote their llama candidate into the rescue spaceship; for this, they can use any reasoning technique.
Humor was important to me when making the game. And a game is born when a designer's skillset and personality click. Thus, a particularly goofy party game entered the world. The game's uniqueness is the simplicity of its theme despite its bizarre premise.
The PanIQ team also took part in the game development process. Was the collaboration smooth?
I brought the means. The world was added by the PanIQ team, which adapted to the basic rule structure so quickly that now I can't even imagine the game without it. Our collaboration was efficient and enjoyable; the negotiations were smooth. A genuine passion project on all sides. If only every game release could work this well.
The iconic look of Llamageddon also requires mention! An animated NFT gallery was created based on the production graphics. Whose idea was this?
PanIQ developed the idea internally. I'm not at home in the NFT world, you see. Luckily the guys are professionals, so it turned out amazingly great!
Will there be a sequel to Llamageddon? Are you planning another game with PanIQ Room?
I'm open to it. I'd be happy for it, and judging from the game's reception, I have reason for confidence. I can't reveal more for now. 🙂
Do you think there is another area of ​​life about which you could feel equally enthusiastic?
My other major interest is film culture. When I'm not talking about the cinema, I'm in the theater. In fact, my wife and I used to run a film blog. When starting Mit Játsszunk?, we redirected the blog's creativity onto our passion for board games.