Escape into the Spooky World of Halloween with PanIQ Escape Rooms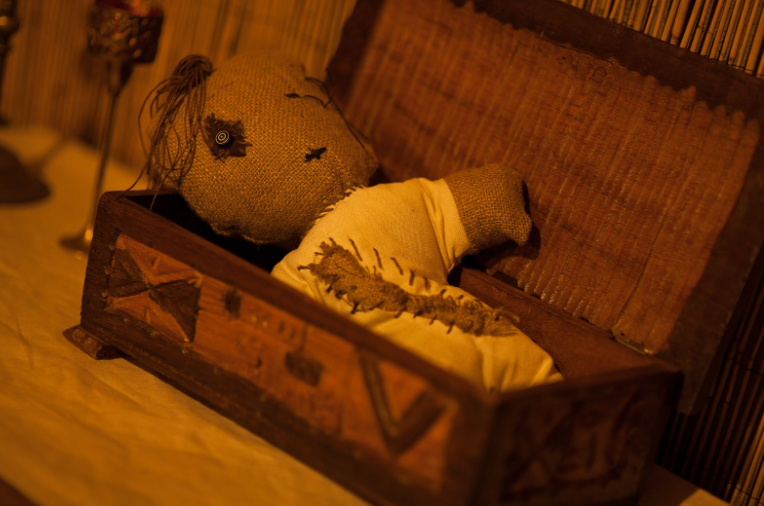 Are you ready to experience the ultimate thrill this Halloween season? Look no further than PanIQ Escape Rooms, where you can immerse yourself in a world of spine-chilling adventures and heart-pounding excitement.
With 33 uniquely designed escape rooms available in locations around the world, PanIQ offers a variety of thrilling experiences that will leave you wanting more.
Let's dive into the details of seven rooms and discover why they are perfect for a Halloween escape.
1. Zombie Outbreak
In the Zombie Outbreak room, you and your team are on a mission to escape from a city-wide zombie epidemic. You find yourselves trapped inside a barn – the relentless horde just outside the wooden walls.
The room is filled with puzzles and clues that will challenge your problem-solving skills. Miraculously, the old radio in the barn still works, and through it you have learned about a safe zone just a few counties over that promises food, clean water, medicine, and security. Your only hope is an old motorcycle. If you can find the keys, new spark plugs, and some fuel, you can make a run for the safe zone and the hope of a new life.
As you navigate through the eerie atmosphere, the thrill of escaping from relentless zombies will keep your heart racing. This room is a perfect choice for Halloween, where the spooky ambiance and the race against time make for an unforgettable experience. If you're looking to heighten your experience even further, why not dress up as a survivor? … Or as a zombie, if you're feeling contrarian.

This room can be found at our Atlantic City, Dallas, Lahore, Las Vegas and Miami Beach locations.
User Review: "My first time playing…Zombie Room was a blast!This was a repeat visit for my husband, who had already come with co-workers and played the other 2 rooms. He loved it so much that he brought me and our friend to play the Zombie Room. The puzzles were challenging, but do-able. Our game master did a WONDERFUL job explaining the process and giving us a hint (or two) when we needed one. I'm hooked and I need to find a date to visit and complete the other rooms with friends." – DallasTXUser on Tripadvisor
2. Wizard Trials
Master Diaphugius is the greatest name in wizardry in a handful of generations, and he selected you to be his apprentices. You've survived alchemical mishaps, recovered from embarrassing transmutations, and braved quests for all manner of exotic ingredients (not to mention the countless runs for tea leaves).
But all those headaches, the long nights, and the singed eyebrows have brought you to this … your final test. Diaphugius has left you alone in his tower with a single mission. Find and protect the recipe used to make the potion of eternal life, before the dark wizard Zadimus can steal it. You have been given one hour. If you can find it before the dark wizard, your master will give you your very own spellbook and the title of … Assistant Wizard!
In the Wizard Trials room, you become a wizard summoned to partake in a series of magical trials. As you venture through the room, you'll encounter enchanting puzzles and challenges that will test your wizardry skills. The mystical theme combined with the sense of adventure makes this room an excellent choice for Halloween.
Get ready to embrace your inner sorcerer and embark on an extraordinary journey. And by that, we mean, throw on your best wizard hat and robe – because if you come in costume, you're guaranteed to have a magical experience. (Or, well, a lot closer to magical, anyway. Who doesn't want to wear a cozy wizarding robe while exploring an ancient tower)?

Wizard Trials can be played at our Atlanta, Austin, Chicago, Las Vegas, Long Beach, Sacramento, San Francisco and Stockholm locations. All others will have to get on their brooms and fly to one of these cities in order to play.
User Review: "Pleasant experience, and liked the interactive sound effects. We did the wizard trials and the pirate one with our 12-year-old and 10-year-old. I wouldn't say we are escape room experts but we have done a pretty good number of them across the US while we travel. They have a lot of neat interactions here that you don't see very often. They have definitely put a lot of time, thought, and money into these rooms it shows and has paid off.!" – Jeramy S.
3. The Haunted Manor
The local legends tell the history of Vesper Castle as one of terrifying supernatural horror, making it one of the world's most haunted locations.
However, the truth may be something else entirely.
The new caretakers of the property have great plans for it, but none of them are possible so long as the spectral activity continues. Can your team of paranormal investigators discern the secret behind the ghostly experiences that happen here every hour and rid this place of fear for good?
Step into the Haunted Manor room and prepare to uncover its dark secrets. As you investigate this ghostly abode, be prepared for spine-chilling surprises and hidden clues that will keep you on your toes. Planning a costume a bit more on the ghoulish side this year? This is the perfect room for all you corpse brides, ghosts and creepy specters. Vampires need not apply.

The Haunted Manor can be played at our Austin, Indianapolis, Vegas, Long Beach and Sacramento locations.
User Review: "My brother (17y/o) and I did the Haunted Manor room on a Tuesday afternoon. We did not have any reservations but the front desk staff was able to accommodate us within minutes. All staff were very friendly too.
The puzzles were of difficulty, which was expected. The room itself was unique and hi tech (ie drawers open automatically upon completion of a task)." – Kelsey B.
4. Voodoo Spirits
Enter the Voodoo Spirits room and find yourself in a race against time to break free from the hut of an ancient priest, where you have been trapped by a malevolent spirit. Only the priest's golden skull can save you now… if you can find it, that is.
This room is filled with voodoo dolls, potions, and other creepy artifacts that will keep you on edge throughout the game. The spooky theme and the looming sense of danger make this room an ideal choice for a fun Halloween outing. Can you overcome the supernatural and escape the curse?
User Review: "A group of friends and I decided to challenge PanIQ's Voodoo Spirits room and we had an absolute blast. Many of us have done escape rooms all around Chicago, and this one still posed a healthy challenge for us. I love the amount of detail that went into the room and the puzzles were fun and definitely got our brains working. Some of us had done PanIQ's Prison escape previously and loved that room as well. We are all looking forward to coming back and challenging the other rooms that PanIQ has to offer. :-)" – Johnathan K.
5. Chainsaw Massacre
If you're a fan of horror movies, the Chainsaw Massacre room is tailor-made for you. Picture yourself trapped in a cabin in the woods, with a chainsaw-wielding maniac on the loose. Your objective? Find a way to escape before he finds you. This room's horror movie theme and the intense thrill of evading a crazed killer make it a perfect fit for Halloween. Leave the chainsaw at home, and come on down for a spooky good time.
This room can be found at our Houston location.
User Review: "We did the chainsaw massacre room tonight! LOVED the feel and look of the room! Kids enjoyed the creepy environment too! Denise was awesome and huge help when we needed!! Very thought out! Loved it so much that we are booking our second one right now!!!!!!" – Brianne M.
6. Pirates of Tortuga
It's clear now that the visit to Tortuga was a mistake. Sailing under a common merchant flag, your orders were to gather supplies and return to the fleet. Port Royal would have been the smart choice, but considerably farther. On the other hand, Tortuga offered ways of purchasing the same goods for less. And with the money saved, you could spend a few days of mirth and merriment before returning to your captain, with no one the wiser.
However, a group of pirates have taken advantage of your naivete. They grabbed you in the middle of the night, knocked you unconscious, and are keeping you in their storeroom until their ship is ready. Who can guess the plans of a pirate? But odds are, you'll be thrown onto a slave ship and sent somewhere unpleasant for a lifetime of hard work with little to show for it. Unless you can escape before they return to claim you.

If you're looking for a family-friendly Halloween outing that's a bit less on the spooky side, then our Pirates of Tortuga room is perfect for you! Throw on your best eyepatch, practice your "ARRRrrr"s and get ready for a high-seas adventure! We do recommend leaving the hook-hand at home, they can make working with some of our puzzles a bit more difficult.
Peg legs are welcome.
Pirates of Tortuga can be played at our Austin, Lahore, NYC, Sacramento and Stockholm locations.
User Review: "I tried the Tortuga and Museum room, both equally amazing and funny to play. I really like the concept of these rooms, where everything is built in with magnets and electronic devices. Not just locks to pick!I loved the details in the Tortuga room, and the themed clues that reminded me so much of Pirates of the Caribbean movies." – Gemma I.
7. Wild West
Transport yourself back in time to the Wild West.. Your mission: You've been locked in a jail cell by the local sheriff after a robbery gone awry. Lucky for you, he's gone out riding and he left the keys in the room. Now if only you could find a way to reach them…
This room is filled with puzzles and clues that will help you plan your daring escape. The western theme combined with the thrill of breaking out of jail makes this room an exciting choice for Halloween. Don your cowboy hat, give us a quick "Yee-howdy" (or whatever it is cowboys say, I'm an out of touch east coast elitist) and get ready for some fun and adventure in the old wild west.
User Review: "This was my 4th escape room and I was determined to succeed. Bao helped me easily make the booking at a time and day that was convenient for my group. Then on the day of, Anthony gave us the simple guidelines and had us begin the Wild West room. It was awesome! The puzzles require thought without being overwhelming, including some cool physical aspects. Most of all, the theme of the game was very comprehensive and it permeated every aspect of our experience. It really felt like we were in the Wild West trying to escape a jail! We managed to persevere and escape in just 44 minutes. Looking forward to coming back to play the Insane Asylum." – seanwince
Come Experience Something Spooky Today!
As you can see, here at PanIQ Escape Rooms we offer a wide range of thrilling experiences that are perfect for Halloween. Whether you're a fan of zombies, wizards, haunted manors, voodoo spirits, horror movies, pirates, or Wild West adventures, there's a room that will cater to your spooky desires.
Gather your friends, family, or coworkers, and prepare to be fully immersed in a world of excitement and mystery at PanIQ Escape Rooms!
Book your Halloween escape today at PanIQ Escape Rooms and get ready for an unforgettable adventure that will leave you breathless. Are you up for the challenge?